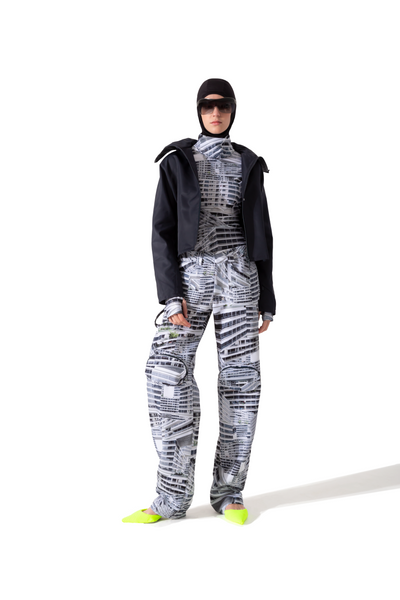 Product details
Description

Waterproof jacket with high collar that expands to cover lower face. Circular holes at the elbows and racer back with cut-out. Subtle reflective branding on front center and on racer-back.  

Packable hood in neck-line. Waterproof zippers on main pockets. Jacket interior includes big pockets, airpod pocket. Watch zipper on left arm. Card size pocket on underneath of right sleeve (for tap-and-go credit cards, metro/subway/tube cards). Features reflective branding.

Product info

ECONYL® Regenerated Nylon (100%) which is made using waste that would otherwise pollute the Earth.

Care: Hand wash, Do not dry clean, Do not bleach, Iron low temp & Do not tumble dry.

It is water repellent, and has a plant-based, antimicrobial protection.

Fabric made in Taiwan | Designed and Produced in Mexico City

Julia is wearing Size S.

Delivery & returns

All orders are made-to-order. It will be delivered to your address by Fedex International Standard 5-7 days. You can always return items for a full refund within 14 days from the day you received your order. Please note that delivery may take longer during holidays, sales or other postal delays.

ECONYL® regenerated nylon is made from waste such as fishing nets from the oceans and aquaculture, fabric scraps from mills and carpets destined for landfill, it's infinitely recyclable and can unleash infinite possibilities for makers, creators and consumers. It's exactly the same as virgin nylon and can be recycled, recreated and remoulded infinitely. It reduces the global warming impact of nylon by up to 90% compared with the material from oil.

Life Naturals is a plant-based, natural anti-bacterial and odor-control technology, made from peppermint oil, which protects against 99.9% of microbes. Natural peppermint oil offers the same performance and durability as chemicals. Textiles treated with Life Naturals require less laundering, which saves energy, water and time. Less frequent laundering also effectively reduces microplastic pollution.